Let's talk about pond cleaning and how to keep your pond water clean and clear!
We'll cover cleaning a pond with or without fish.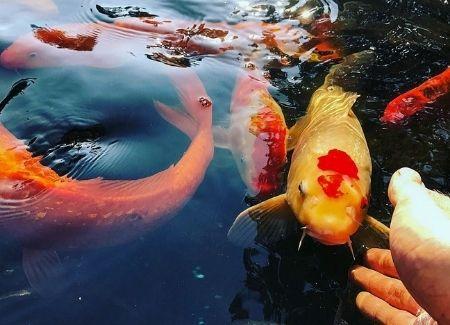 Things To Do To Keep My Pond Clean
Clean your pond's water filters on a regular basis: Cleaning your koi pond filters weekly will help keep your pond clear all season while reducing future clean-out time and labor.
Net your pond in the fall: When the leaves start to fall, laying a net across your koi pond will prevent leaves from sinking to the bottom and breaking down over the winter months.
Algae Control: Algae can cause a lot of problems with your koi pond. We recommend an Ion Gen by Aquascape to eliminate algae from your pond.
Koi Pond Clean-outs
When and how often should I clean out my koi pond?
The best time to clean out your Koi Pond is in the spring. Depending on your filtration system and the number of water plants will determine how often you will need to clean out your pond. If the pond is left untouched for many years without cleaning it can turn into a much bigger job than compared to maintaining it each season.
Pond Cleaning Cost
Typically pond clean out costs between $1200 – $3000.
What determines the cost of a pond cleanout?
The cost of cleaning a koi pond is determined by the size and the amount of debris. Ponds with aquatic plants that haven't been cleaned for several years can fill a bottom solid with roots. This can be avoided by seasonal maintenance and splitting up plants.
Are you ready to schedule your pond cleaning?  Get started today by calling us or requesting your quote online now.  View all of our contact information.